Timbits Softball
---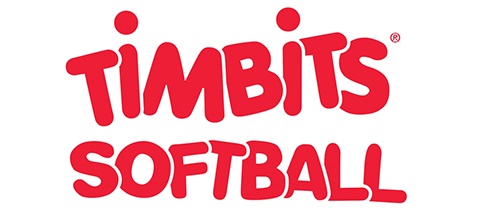 About
Let's Make Learning Fun!
Timbits Softball is a revolutionary way of introducing the sport of Softball to children. Activities are included which foster the involvement of ALL players, including players with high and low skill levels. The child will experience excitement, enjoyment and success. Activities and lead-up games are patterned after informal playground games that promise an hour of FUN and LOTS OF ACTION. Participants will go home at the end of the day happy and tired, while improving their fitness level.
Timbits Softball Makes Learning Fun!
The Timbits Softball program is designed to be a young person's introduction to the sport of Softball. The emphasis is on FUN, ACTION, and a POSITIVE ATMOSPHERE, with a gradual introduction to non- stressful competition. Timbits Softball provides children aged 5-10 with maximum opportunity to practice the skills necessary to successfully take part in the (adult) game of Softball. Timbits Softball allows children of all skill levels to achieve the same number of skills repetitions. The drills also offer a high success rate for every child, which improves every player's self confidence.
Coaching has never been this easy!
Timbits Softball is also designed to be easily administered. Traditionally, at the 5-9 year old level, coaches are Moms and Dads with little or no coaching experience. Timbits Softball is designed to be easily implemented by a volunteer coach! The Timbits Softball Manual contains: lesson plans, easy to follow instructions, a letter to parents about the program, progressions for teaching basic skills, and lead up games.
Suggested Program Structure
Level 1
9 weeks with 2 sessions per week
1 hour per session (max.)
Level 2
9 weeks with 2 sessions per week
1 hour and 30 minutes (max.)
45 minutes using the lesson plans and 45 minutes of a scrimmage
Level 3
9 weeks with 2 sessions per week
1 hour and 30 minutes (max.)
30 minutes using the lesson plans and 1 hour scrimmage
Timbits Orientation
This program is the first exposure to our sport for both our parents and players. We want to prepare our parents and coaches as best we can by providing them with a free parent/coach clinic. At this clinic you will be taken through the program and the manual, which includes lesson plans and how to teach skills, and you will participate in a mini skills clinic to show you how to teach the skills. After taking our orientation, you will be equipped to run an organized, fun, active practice, and modified games that focuses on skill development.
To have an orientation in your community, please submit a Bid to Host Form found HERE and contact Jacqueline at 780-9235 or at jac@softball.sk.ca. The clinics listed below are for parent and coaches ONLY (Please do not bring any children) and open to those outside of the location.
Date

Time

Location

Contact/Registration

April 5

6:30PM - 9:15PM

Martensville

Athletic Pavilion

200 Mike Sands Blvd

Rhonda Toth

April 23

5:00PM - 8:00PM

Warman

Heather Chatfield

April 24

6:00PM - 9:00PM

Saskatoon

Noreen Murphy

April 25

6:00PM - 9:00PM

Saskatoon

Noreen Murphy

April 25

6:30PM - 9:15PM

Melfort

Melfort Curling Club

Jessie Spencer

April 30

1:00PM - 4:00PM

Regina

Martin Collegiate Auditorium

Kristina Kenny
Timbits Softball Resources
Timbits Manual
Free digital copy through Softball Canada HERE.
We also have the Softball Mobile App that will make coaching our U5, U7 and U9's even easier!! We have partnered with Athlete's Era, a Saskatchewan based company, to build the app and import the Timbits Softball manual & video's into it. This will be an electronic version of the Timbits Softball manuals that we have been using. For more information click HERE.
Inside the Timbits Softball Manual you will find:
Prepared lesson plans
Easy to follow instructions
Progressions for teaching basic skills
Lead up games designed to simulate the real game of softball
Timbits Softball allows coaches and children to explore the wonderful sport of Softball. Participants will go home happy and will look forward to the next Timbits Softball session.
School Resources
Looking for some softball resources for your classroom? Take a look at our Timbits Softball program or below for resources where Softball Canada has partnered with organizations to develop softball specific lessons plans for teachers!
Move, Think, Learn: PHE Canada
This resource uses a Teaching Games for Understanding approach to work students through tactical gameplay problems, think through options and skills, and learn how to apply this learning to broader gameplay situations. The series explores archery, badminton, canoe-kayak, cycling, ringette, softball, squash, soccer and team handball. Targeted to educators working with children and youth approximately 8-14 years of age (grades 4-9), the goal of the series is to increase student knowledge, confidence, and competence to become further engaged in physical activity and/or sport.
Active at Schools: Canadian Olympic Committee
The Canadian Olympic School Program has partnered with Canadian Tire's ACTIVE AT SCHOOL movement to launch the Canadian Olympic Activity Challenge, with the aim of getting kids across the country active for 60 minutes a day through new classroom resources.
Students will be introduced to various sports including softball and learn about their history and develop an understanding of the Olympic values of Friendship, Excellence and Respect.
To download this program and use the Softball based resource in your classroom check HERE!
Other Resources
Timbits T-Shirts- CURRENTLY ON PAUSE DUE TO UNKNOWN INVENTORY LEVELS
This year, Timbits t-shirts are going to be handled a little differently. Softball Canada will be sending us the t-shirts and we will be distributing them from our office. Once the t-shirts have arrived we will email all of the associations involved in the Timbits program with instructions on how to order the shirts from us.
Timbits E-Learning
The Timbits E-learning Clinic is free of charge and participants will learn the following.
Learn program basics.
Learn why volunteers are important.
Learn long term player development at a glance.
Learn 5 fundamental softball skills.
Learn where to find more support.
To take the e-clinic you can visit: https://softballcanada.respectgroupinc.com/koala_mpp/course/program.jsp