Softball Saskatchewan believes everyone has the right to enjoy the sport despite their level of participation. As such, Softball Saskatchewan encourages all individuals to communicate openly, collaboratively, and use problem solving techniques to resolve differences in opinion. Resolving a conflict at an early stage may prevent a situation from escalating and resulting in a formal complaint.
For more information, access the resources below;
Safe Sport Reporting Process
Softball Saskatchewan recognizes and respects that filing a report can be both a difficult and emotional process. To make the reporting process as simple, and as straight forward as possible, please refer to Softball Saskatchewan's reporting process to determine who to contact regarding your incident/ complaint.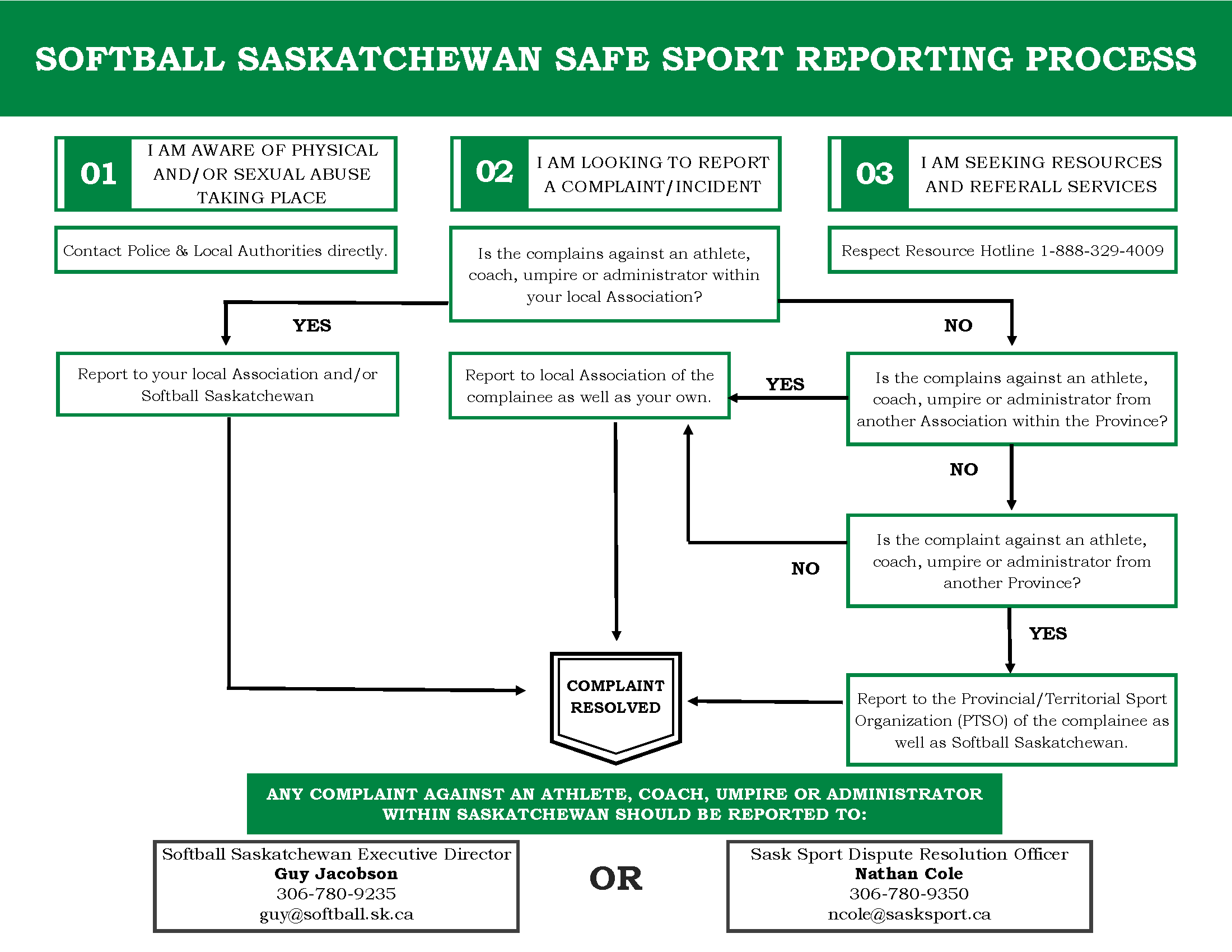 Resources for Reporting Harassment & Abuse
Reporting is critical in creating and maintaining a safe environment for all participants. Independent, third-party complaints management is a directive of Canada's Safe Sport movement.

The Respect Resource Line (including E-Support service) provides information, bilingual support, resources and referrals for sport in Saskatchewan regarding possible bullying, abuse, harassment, discrimination or hazing.

This confidential and anonymous resource, operating 365 days of the year from 9 a.m. to 9 p.m., is intended to assist callers in determining the most appropriate course of action to take.
The Respect Resource Line staff is qualified to handle calls regarding child and youth maltreatment (national/provincial child and youth protection laws) and organization-specific risk management and dispute resolution models.


Phone: 1-888-329-4009

Text: 1-306-717-9636
Discipline/ Complaints
All Softball Saskatchewan stakeholders are expected to fulfill responsibilities and obligations including, but not limited to, complying with Softball Saskatchewan's policy's, bylaws, rules and regulations, code of conducts and ethics. Non-compliance may result in sanctions pursuant to the organizations Discipline and Complaints policy.
To access Softball Saskatchewan's Discipline and Complaints policy, click here.